Above: Joe Krebs kicking off Agile Day 2018 at Pace University in NYC.
I had the opportunity to attend Agile Day 2018 on September 5. It was wonderful! The schedule was jam-packed with fantastic speakers. There was great camaraderie among the attendees. It was a hot humid day in New York City but this event was cool! Here's a quick overview.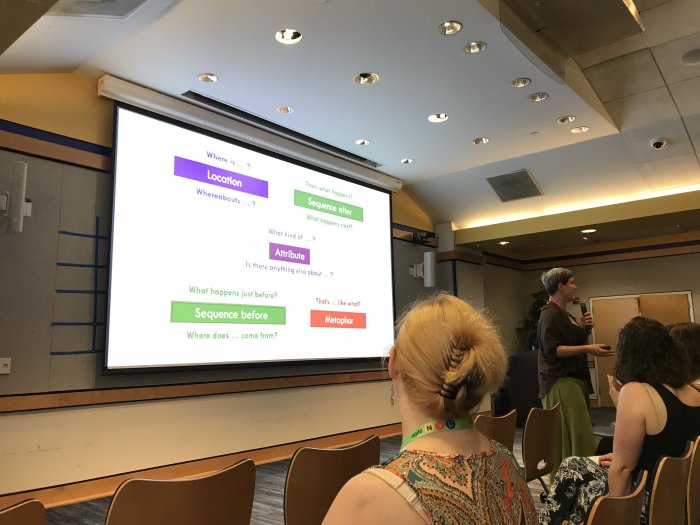 Keynote: Creating a Drama-Free Team
In the morning keynote presentation Caitlin Walker spoke on "Creating a Drama-Free Team." She shared techniques on using Clean Language to better understand others in which you "accept and extend the situation. You don't challenge it."
Using a diagram of a "drama triangle," Caitlin showed that people in conflict are in one of three positions: persecutor, rescuer, or victim. She engaged the audience with interactive examples of how to use Clean Language to relate to people in each of these positions. I was so captivated by her presentation that I forgot to take notes after that point! But I bought Caitlin's book, From Contempt to Curiosity, so I can continue to learn about Clean Language.
Breakout Sessions
The first breakout session I attended was "Embrace an Experimentation Mindset" with Diana Williams. Several points from Diana on this topic:
Know your purpose.
Challenge assumptions.
Make failure acceptable.
Think big. Start small.
Be adverse to status quo.
Oh, that number 3 would be more of a reality!
The second breakout session I attended was "On Leading a Transformation with Engagement" with Jon Jorgenson. This was a fast-moving session with Jon with plenty of all too familiar examples of struggles faced by organizations trying to do an Agile transformation. I wanted to jump up from my seat and yell, "Jon! Help me!" I've been asked to take the lead in Agile for our department and I feel like I'm in way over my head!
The third session was "Developing a Culture of Adaptability" with Cheryl Tansey. Cheryl defined adaptability as:
State or condition of being able to do or act.
Ability to adjust oneself readily to different conditions.
Capacity to be modified for a new use or purpose.
Are we merely focused on the problems in our way and stuck? Or do we have an adaptable mindset in approaching problems in order to find our way forward? Cheryl gave us a handy acronym to use when working through a problem: IGROW:
I – What is the ISSUE? What is the problem we are facing? Can we define it?
G – What is the GOAL? Where do we want to go? What does it look like if we resolve the problem?
R – What is the REALITY of the problem? What are the details and circumstances? Where are we truly?
O – What are the OPTIONS to solve the problem?
W – How do we find our WAY FORWARD in applying options and solving the problem?
Agile Open Space
After the breakout sessions we had an Agile Open Space session. What is Open Space? I'm glad you asked. It's new to me too. There is an explanation here on the Open Space Agility website.
In a nutshell, the session involved the whole group at the conference. People voluntarily made suggestions for topics of discussion, posting them on a schedule on the wall. The schedule consisted of three thirty minute sections with multiple topics for discussion posted in each section. You simply chose the topic that interested you, walked over to its designated area in the room, and jumped into the discussion. It was a lively brainstorming/experience sharing time. I was involved in discussions about how to get executives on-board with Agile, and more Clean Language topics with Caitlin Walker. Plus, as if she didn't give us enough during her breakout session, Cheryl Tansey gave us a performance of her "Agile Rap." Check it out:
The closing presentation was given by Daniel Mezick: "Inviting Leadership: Invitation-Based Change in the New World of Work." It was a straight-shooting talk about what leadership that is Agile and that which is not, leadership that invites and inspires, and that which pushes and compels. Daniel gave us great information on how Open Space Agile can dynamically transform our workplaces. At the 15 minute mark, Daniel asked our permission to continue. We gladly gave him the authority to do so… even though there was beer awaiting us. (This is a bit of an inside joke for those who were at the presentation.)
Would I Attend This Conference Again?
Hell yeah! I was educated, inspired, and edified. I made several connections with knowledgeable interesting people.
If you in any way work with Agile methodologies or want to, I highly recommend that you attend Agile Day 2019 on September 19, 2019.